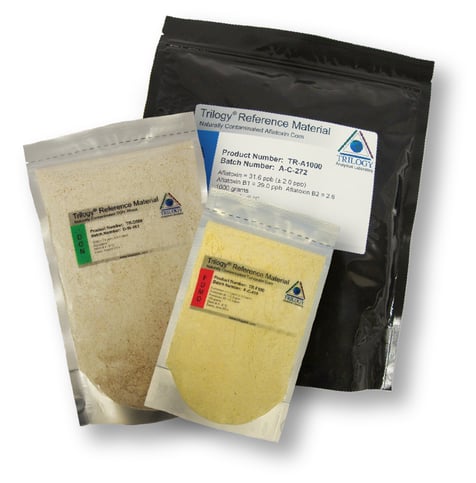 When thinking of mycotoxin reference material and homogeneity, what is the first thing that comes to mind? It's easy to think in terms of liquid standards where homogeneity is considered inherent due to the physical state of the product. Not all reference materials are liquid, however. At Trilogy, we offer reference materials in various commodities such as corn, wheat, barley, and oats, to name a few. So, how can we ensure the homogeneity of solid materials, such as grains? When it comes to mycotoxin homogeneity, it's all about the equipment.
There are three basic steps we follow to achieve a homogeneous mixture. The process can be broken down as follows:
The milling process is the first step in achieving homogeneity. The key to the milling process is proper selection of milling blades and screens. If only one out of every 200 kernels is contaminated, then it is the responsibility of the mill to grind the kernels to a small enough particle size to pass through a 30 mesh screen.
Second is the sifting process. Choosing the correct screen size ensures that the mix is composed of a specified particle size range. Based on past studies, we have determined the ideal particle size to be 0.595 mm, or 30 mesh, in order to minimize variability due to a heterogeneous mixture. The chart below, which was taken from a recent study, illustrates the difference in result variability for aflatoxin at different mesh and extraction sizes.

The final step in the production of a mycotoxin reference material is the mixing process. Here at Trilogy, we have found through studies that even though the toxins are naturally occurring, this does not equate to a naturally homogeneous mixture. The milling and sifting process will ensure proper particle size, but the mixing process is what ensures particle or toxin distribution.
These steps are only effective if production equipment is taken care of and routine maintenance is performed. For example, if the mesh screens are showing signs of wear and are still being used, then it is impossible to guarantee a finely ground product. If the blade is causing the grain to slice apart instead of shatter, then 100% pass through of a 30 mesh will never be achieved. For this reason, we make routine maintenance of production equipment a priority. All equipment must be working properly in order to achieve homogeneity in mycotoxin reference materials.
Interested in learning more about the production process for Trilogy Reference Material? We recently hosted a webinar covering this and other topics relating to mycotoxin reference material. View and download the recording from this webinar:
---
Share on Social Media: